Chili Pepper-Corn Tortilla Casserole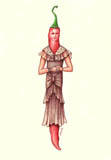 Yield: 8 servings.

Ingredients:
Corn oil
12 6-inch corn tortillas
1 16-ounce can of refried black beans
1 16-ounce can of black beans
1 12-ounce jar of salsa
Fresh corn kernels, cut from 6 large ears
2 each, green and red bell peppers, diced into 1/4 -inch pieces
1 fresh hot red chili pepper, about 2 inches long, seeded and minced (wear rubber gloves)
1 teaspoon chili powder
2 teaspoons cumin
2 teaspoons crushed garlic
2 tablespoons chopped cilantro
Juice of 2 limes
Kosher salt
1/2 pound sharp cheddar cheese, grated
Directions:
Preheat oven to 350 degrees F.
Heat 1 tablespoon oil in a sauté pan. Soften each tortilla in oil for a few seconds on each side, then drain on paper towels. Add more oil if needed. Layer 6 tortillas, overlapping slightly, in the bottom of a large rectangular casserole.
Combine refried beans, black beans and salsa, and spread over tortillas. Cover salsa-bean mixture with the remaining tortillas.
Sauté corn with bell peppers in oil for 5 minutes. Add the chili pepper, chili powder, cumin, garlic, cilantro and lime juice. Sauté an additional minute, and salt to taste.
Spread the vegetables over the tortilla layer and cover with grated cheese. Bake for 35 minutes.
Back to the VeggieCards
Recipe Greeting Cards
©1996-2008 All Rights Reserved.
Call toll free to order: 1-734-330-4430