ROOT VEGETABLES GRATIN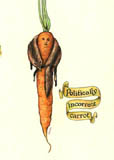 Yield: 8 servings.
Ingredients:
2 tablespoons olive oil
2 leeks, white parts only, washed and sliced
11/2 cups carrots, peeled and cut into
1/4 -inch rounds
3 cups parsnips, peeled and cut into1/4 -inch rounds
3 cups turnips, peeled and cut into1/4 -inch rounds
1 tablespoon chopped fresh thyme (or 1/2 tablespoon dried)
Kosher salt
Freshly ground pepper
1 cup milk
1 cup freshly grated Parmesan cheese
Directions:
Preheat oven to 400 degrees F.
Heat oil in a large sauté pan.
Sauté leeks in oil with a pinch of salt for 10 minutes. Add carrots, parsnips, turnips and thyme and sauté for 5 more minutes. Season to taste with salt and pepper.
Transfer vegetables to a casserole or gratin pan.
Pour milk over vegetables; then cover with Parmesan cheese.
Cover and bake for 15 minutes. Remove cover and bake another 30 minutes until golden brown.
Back to the VeggieCards
Recipe Greeting Cards
©1996-2008 All Rights Reserved.
Call toll free to order: 1-734-330-4430