Artichoke with Sun-Dried Tomato Aioli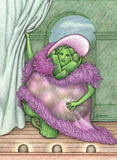 Yield: 4 servings.
Ingredients:
4 artichokes
Juice of 2 lemons
4 garlic cloves
8 sun-dried tomatoes, rehydrated in hot water
2 eggs
3/4 cup extra-virgin olive oil
3/4 cup vegetable oil
2 tablespoons freshly grated Parmesan cheese
Kosher salt
Freshly ground pepper
Directions:
Steamed Artichokes:
With a stainless steel knife, cut off artichoke stems and slice off the crowns, about one inch from the top. Rub the cut surfaces with lemon juice to reduce discoloration.
Add two inches of water to a pan that will fit all the artichokes when placed upright. (Use a steamer insert if desired.) Cover tightly, gently boiling until the artichoke leaves pull out easily and the base is tender, about 40 minutes.

Aïoli:
Purée the garlic and sun-dried tomatoes in a food processor fitted with a steel blade. Add the eggs. With the machine running, pour the oils in a thin steady stream through the feed tube until a thick mayonnaise forms.
Add the Parmesan cheese and process. Season to taste with salt, pepper and lemon juice.
Back to the VeggieCards
Recipe Greeting Cards
©1996-2008 All Rights Reserved.
Call toll free to order: 1-734-330-4430