Southwestern Tossed Salad with Avocado-lime Dressing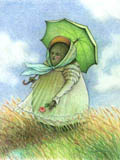 Yield: 6 servings.
Ingredients:
For dressing:
1 clove garlic, peeled
1 ripe avocado
3 tablespoons sour cream (or plain yogurt)
2 tablespoons fresh lime juice
1/4 cup corn oil
1/4 cup water
1/2 teaspoon cumin
1/4 teaspoon cayenne
Kosher salt
Ingredients:
For salad:

1 head romaine lettuce, washed and shredded
1/3 pound jalapeño jack cheese, cut into julienne slices
1 pound jicama, cut into julienne slices
1 sweet red pepper, cut into julienne slices
Optional ingredients:
scallions, tomatoes, black olives
Directions:
Purée garlic in food processor. With machine running, add avocado and sour cream and purée until smooth. Slowly add the rest of the ingredients to make the dressing. Salt to taste.
Toss the salad ingredients with the dressing and serve.
Back to the VeggieCards
Recipe Greeting Cards
©1996-2008 All Rights Reserved.
Call toll free to order: 1-734-330-4430