Yellow Squash Frittata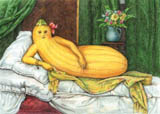 Yield: 6 servings.
Ingredients:
1 cup dry orzo
10 eggs
2 tablespoons milk
1 teaspoon Kosher salt
1/2 teaspoon freshly ground pepper
1 tablespoon butter
2 leeks, white parts only, washed and sliced
3 to 4 yellow squash, diced into 1/2-inch cubes
3 tablespoons coarsely chopped basil leaves (you may substitute watercress )
4 ounces freshly grated Gruyère cheese
Directions:
Preheat oven to 400 degrees F.
Cook the orzo in salted, boiling water until tender, about 12 minutes.
In a large bowl, lightly beat the eggs. Stir in the milk, salt, pepper and orzo.
Melt the butter in a large nonstick ovenproof skillet. Over medium heat, sauté the leeks and squash for 5 minutes, stirring occasionally. Do not overcook; the vegetables will be baked later.
Increase the heat to high. When the mixture is almost smoking, stir in the basil and pour in the egg mixture. In about 45 seconds the mixture will start to bubble around the edges. Remove the skillet from the burner and place in the center of the oven.
Bake until the frittata is set, about 30 minutes. Shake the pan to loosen the sides, then flip the frittata over onto a large ovenproof serving dish.
Preheat the broiler. Sprinkle the frittata with Gruyère cheese and place it under the broiler 20 seconds. Let cool at least 5 minutes before cutting into wedges. Serve immediately.
Back to the VeggieCards
Recipe Greeting Cards
©1996-2008 All Rights Reserved.
Call toll free to order: 1-734-330-4430