Gingered Asparagus and Bow Tie Pasta Salad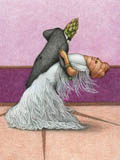 Yield: about 3 1/2 cups.
Ingredients:
1/3 pound bow tie pasta (also called farfalle)
1/4 cup peanut oil
3 tablespoons minced shallots
2 tablespoons minced fresh ginger
2 pounds asparagus, ends snapped off, stalks peeled, and cut into 11/2 -inch pieces
2 tablespoons raspberry vinegar
Zest and sections from one orange
Kosher salt
Freshly ground pepper
Directions:
Bring a large pot of salted water to a boil. Cook the pasta al dente, drain and set aside.
Heat 1 tablespoon of the oil in a large nonstick sauté pan. Add shallots and ginger and sauté approximately 3 minutes. Add the asparagus and sauté until tender, about 3 to 5 minutes more, depending on the thickness of the stalk.
Whisk the remaining oil, raspberry vinegar and orange zest together in a large bowl. Add the pasta, asparagus and orange sections, then toss together. Season to taste with salt and pepper. Serve warm or cold.
Back to the VeggieCards
Recipe Greeting Cards
©1996-2008 All Rights Reserved.
Call toll free to order: 1-734-330-4430