Scalloped Onions with Wild Mushrooms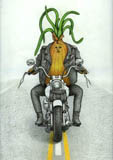 Yield: 6 servings
Ingredients:
1 ounce dried wild mushrooms (cèpes, porcini or morels)
4 pounds Vidalia or yellow onions, thinly sliced
1 tablespoon chopped fresh thyme (or 1/2 tablespoon dried)
1/2 cup milk
1 egg
1/2 teaspoon pepper
1 teaspoon Kosher salt
1/4 pound freshly grated Gruyère cheese
Directions:
Preheat oven to 350 degrees F.
Rehydrate dried mushrooms in 1 1/2 cups warm water for 20 to 30 minutes.
Heat butter in a large sauté pan. Sauté onions for 8 minutes, lifting and turning occasionally with tongs to insure even browning.
Coarsely chop mushrooms, add to onions and sauté an additional 3 minutes. Add thyme and transfer vegetables to a casserole or gratin pan.
Beat egg with pepper, salt and milk. Pour the milk and egg mixture over vegetables, then cover with Gruyère cheese.
Bake for 30 minutes or until golden brown and bubbly.
Back to the VeggieCards
Recipe Greeting Cards
©1996-2008 All Rights Reserved.
Call toll free to order: 1-734-330-4430