Smoky Black Bean Mini-Quesadillas with Mango Salsa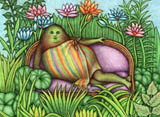 Yield: 36 pieces.
Ingredients for quesadillas:
Vegetable oil cooking spray
12 six-inch flour tortillas
12 thin slices of smoked cheddar (each about 3 inches by 5 inches)
Ingredients for filling:
2 cups cooked black beans, puréed
2 teaspoons chipotle purée (or to taste)
1 scallion, white and light green parts, minced
1 tablespoon fresh lime juice
2 tablespoons sour cream
Kosher salt
Ingredients for salsa:

1 firm ripe mango, peeled and cut into 1/4-inch dice
1/2 small red bell pepper, cut into 1/4-inch dice
1 tablespoon minced cilantro, plus extra sprigs for garnish
Directions:
Preheat oven to 400 degrees F.
Combine ingredients for filling and set aside. Combine salsa ingredients and set aside.
Spray one side of 6 tortillas with cooking oil spray. Place tortillas sprayed side down on a large baking sheet.
Place 1 slice of cheese in the center of each tortilla. Spoon 3 tablespoons of filling on top of the cheese. Spread the filling with a spatula leaving a 1-inch margin uncovered at the edges. Place a second slice of cheese over the filling. (The cheese must not overlap the edges of the tortillas or it will burn.) Cover with another tortilla and spray the top with cooking oil spray.
Bake quesadillas until golden brown, about 10 minutes.
Cut each quesadilla into wedges with a sharp knife. Arrange on a serving dish and place a spoonful of salsa on the center of each wedge. Garnish with a cilantro sprig and serve.
Back to the VeggieCards
Recipe Greeting Cards
©1996-2008 All Rights Reserved.
Call toll free to order: 1-734-330-4430