Cucumber and Anasazi Bean Salad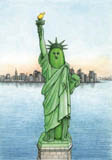 Yield: 8-10 servings.
Ingredients:
7 cups vegetable stock
11/2 cups Anasazi beans (may substitute cranberry or pinto beans)
1/4 cup soy sauce
1/4 cup rice wine vinegar
1 tablespoon sesame oil
1 large garlic clove, minced
2 tablespoons of wasabi powder dissolved in 2 tablespoons water
2 tablespoons chopped cilantro
2 cucumbers, peeled, seeded and cut in half lengthwise,then cut into 1-inch diagonal slices
1 red bell pepper, cut into julienne slices
1 yellow bell pepper, cut into julienne slices
1 carrot, peeled and cut into julienne slices
Optional garnish: fresh watercress sprigs and toasted black sesame seeds
Directions:
Bring vegetable stock to a boil. Add the dried beans and boil for 2 minutes. Turn heat off, cover pot and soak beans in stock for 1 hour. Return to a boil. Reduce heat and simmer for 45 minutes to 1 hour, or until beans are tender. Drain beans.
Whisk together soy sauce, vinegar, oil, garlic, wasabi paste and cilantro to make the dressing.
Add beans, cucumbers, bell peppers and carrot to the dressing.
Let the bean salad stand for 1 hour at room temperature, stirring occasionally, to combine the flavors.
Garnish with watercress and sesame seeds, and serve.
Back to the VeggieCards
Recipe Greeting Cards
©1996-2008 All Rights Reserved.
Call toll free to order: 1-734-330-4430