Butternut Squash and Gorgonzola Soup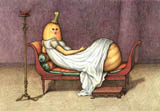 Yield: 8 servings.
Ingredients:
2 medium butternut squash, peeled, seeded and chopped into 1-inch cubes (about 8 cups)
Vegetable oil
1 tablespoon butter
1 red onion, coarsely chopped
3 Granny Smith apples, cored, peeled and chopped into 1-inch cubes
4 cups vegetable stock
1 cup apple cider
1/3 pound Italian Gorgonzola cheese, rind removed
Kosher salt and freshly ground pepper
Directions:
Preheat oven to 375 degrees F.
Spread a single layer of squash over a large lightly-oiled baking sheet. Roast until tender, about 25 minutes.
Melt the butter in a large saucepan and sauté onion until transparent, about 6 minutes. Transfer the roasted squash to the sauce pan. Add the apples, vegetable stock and cider.
Bring to a boil over medium-high heat. Reduce the heat and simmer until the squash and apples are tender, about 15 minutes.
Transfer the mixture to a food processor. Add the cheese and process until smooth. Season to taste with salt and pepper, and serve.
Back to the VeggieCards
Recipe Greeting Cards
©1996-2008 All Rights Reserved.
Call toll free to order: 1-734-330-4430