Baby Greens and Sprouts Salad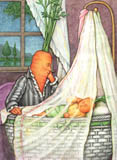 Yield: 6-8 servings.
Ingredients:
For Asian vinaigrette: (makes about 11/4 cups)
1 scallion, minced
2 teaspoons minced fresh ginger root
1 tablespoon rice wine vinegar
1/2 teaspoon sugar
1/3 cup soy sauce
1/2 cup water
1 teaspoon sesame oil
2 tablespoons chopped cilantro leaves
1 tablespoon fresh lime juice
1 teaspoon toasted black sesame seeds
For salad:
1 small radicchio, cut into julienne slices
1 small Belgian endive, cut lengthwise into julienne slices
8 ounces baby greens, such as mâche, arugula or mesclun
1 small yellow bell pepper, cut into julienne slices
6 ounces small cherry tomatoes (about 18)
4 ounces baby carrots (about 18)
2 ounces alfalfa sprouts
Directions:
Whisk together all vinaigrette ingredients, Let stand for 30 minutes at room temperature to allow the flavors to combine. Refrigerate until ready to use.
Rinse all the salad greens well. Spin or pat them dry.
Arrange the greens on salad plates and top with the bell peppers, tomatoes, carrots and sprouts.
Lightly dress each salad with the vinaigrette. Serve immediately.
Back to the VeggieCards
Recipe Greeting Cards
©1996-2008 All Rights Reserved.
Call toll free to order: 1-734-330-4430