Daikon Radish and Rice Sticks Salad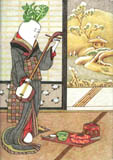 Yield: 6-8 servings.
Ingredients:
1 16-ounce tub of extra firm tofu, cut lengthwise into four 3/4-inch slices
1/3 cup soy sauce plus 1 tablespoon
3 tablespoons sesame oil
Vegetable oil spray
4 ounces rice sticks (may substitute cellophane noodles)
1 tablespoon rice wine vinegar
1/2 teaspoon sugar
1 small daikon radish (about 1/3 pound), peeled and cut into julienne slices
1 carrot, peeled and cut into julienne slices
1 yellow bell pepper, cut into julienne slices
1 red bell pepper, cut into julienne slices
6 cups thinly sliced bok choy (about 1 pound)
2 scallions, white and light green parts, thinly sliced
1 tablespoon toasted black sesame seeds
Directions:
Preheat oven to 425 degrees F.
Marinate tofu slices in 1 tablespoon soy sauce and 1 tablespoon sesame oil for 30 minutes, turning occasionally to coat evenly.
Spray cooking sheet with vegetable spray. Bake tofu slices for 30 minutes, turning once after 15 minutes to insure even browning.
While tofu is baking, bring a large pot of water to a boil. Boil rice sticks for 3 minutes (or according to directions on package), drain and chop into 3-inch pieces.
Make dressing by whisking together remaining soy sauce, oil, vinegar and sugar. Toss rice sticks in dressing.
Cut baked tofu slices into 1-inch cubes and toss with vegetables and rice sticks. Garnish with toasted sesame seeds and serve.
Back to the VeggieCards
Recipe Greeting Cards
©1996-2008 All Rights Reserved.
Call toll free to order: 1-734-330-4430