Roasted Pumpkin Tostada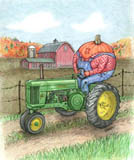 These can be made with packaged tostadas, or you may bake corn tortillas.
Yield: 6 tostadas.

Ingredients:
1 small cooking pumpkin, peeled, seeded and sliced into 3 to 4-inch long strips, 1/4-inch wide
1 small red onion, sliced lengthwise into thin strips
1/2 lime
1 ripe avocado
1 cup cooked black beans
Kernels cut from 2 ears of corn, boiled until tender, about 5 minutes
1 small jalapeño pepper, seeded and minced (wear rubber gloves)
1 tablespoon chopped cilantro
1 teaspoon Kosher salt
1/3 cup corn oil
6 six inch corn tostadas or corn tortillas
1 roma tomato, cut into l/4-inch dice
Optional: toasted pumpkin seeds for garnish

Directions:
Preheat oven to 500 degrees F.
Spray baking sheet with vegetable oil spray. Roast pumpkin and onion slices until golden brown, about 15 minutes.
Peel avocado and cut into 1/4-inch dice. Squeeze lime over avocado. Combine avocado with black beans, corn, jalapeño, cilantro and salt.
If using tortillas: Brush tortillas lightly with olive oil and sprinkle with salt. Toast under a hot broiler until golden brown.
Cover each tostada (or tortilla) with the avocado-bean mixture. Arrange pumpkin and onion slices on top. Garnish with diced tomatoes and pumpkin seeds. Serve immediately.
Back to the VeggieCards
Recipe Greeting Cards
©1996-2008 All Rights Reserved.
Call toll free to order: 1-734-330-4430