Grits Timbales with Roasted Cubano Peppers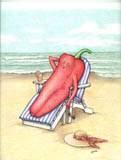 Yield: 6 appetizer servings
Ingredients:
1/2 cup stone-ground grits
2 cups vegetable stock
1/2 tablespoon butter
2 cubano or red bell peppers
1 tablespoon heavy cream
1 egg
3 tablespoons grated Parmesan
2 tablespoons chopped fresh basil, plus 6 leaves for chiffonade
2 garlic cloves, minced
1 teaspoon freshly ground pepper
Vegetable oil cooking spray
1 tablespoon pine nuts, toasted in a dry pan until golden brown
Directions:
Preheat oven to 350 degrees F.
Place grits in a large bowl, cover with cold water and skim off chaff. Drain.
Bring vegetable stock to a boil in a medium saucepan. Slowly stir in grits. Add butter, cover, reduce heat and cook for about 40 minutes. Stir occasionally until liquid is absorbed. Let stand, covered, for 5 minutes.
Roast peppers over a medium-hot gas or charcoal fire until they begin to soften and their skins are blistered and lightly charred. Put them in a covered container or paper bag to steam briefly.
When the peppers are cool, peel, seed and scrape off any remaining charred flakes with a paring knife. Cut 12 thin 11/2 -inch long strips and reserve for garnish. Purée the remainder in a food processor with the cream and a pinch of salt. Set aside.
Beat egg and combine with Parmesan, basil, salt, pepper and grits.
Spray 6 half-cup ramekins with vegetable oil spray. Spoon 3 tablespoons of the grits mixture into each. Place the ramekins in a baking dish. Fill the dish with enough boiling water to reach half the height of the ramekins.
Bake until the grits are firm, about 30 minutes. Remove ramekins from the baking dish and cool for 10 minutes. Assembly: Spoon red pepper purée onto 6 plates. Loosen the timbales from the ramekins with a sharp knife and turn over onto the center of the sauce. Place red pepper strips in an "x" on each and garnish with pine nuts. Surround with a basil chiffonade, and serve.
Back to the VeggieCards
Recipe Greeting Cards
©1996-2008 All Rights Reserved.
Call toll free to order: 1-734-330-4430