Snow Pea and Nectarine Salad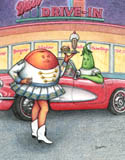 Yield: 4 to 6 servings.
Ingredients:
1/2 pound snow peas, ends trimmed if necessary
3 ripe nectarines, cut in half lengthwise, pit removed, and sliced into thin wedges
1 tablespoon sesame seeds
Dressing:
1 tablespoon soy sauce
1/2 tablespoon rice wine vinegar (raspberry vinegar may be substituted)
1 tablespoon sesame oil
1 tablespoon minced shallot
1/2 teaspoon minced fresh ginger
1 tablespoon chopped fresh parslely
Directions:
Blanch snow peas in rapidly boiling water. Drain and set aside.
Toast sesame seeds in a dry saute' pan over high heat. Shake pan continuously until seeds are golden brown, about 1 minute.
Whisk together dressing ingredients.
Toss snow peas, nectarines and sesame seeds with the dressing. Serve immediately.
Back to the VeggieCards
Recipe Greeting Cards
©1996-2008 All Rights Reserved.
Call toll free to order: 1-734-330-4430