Gingered Strawberry Shortcake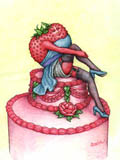 Yield: 4 servings
Ingredients for shortcake:
1 tablespoon finely chopped crystallized ginger
11/4 cups all purpose flour
3 tablespoons sugar
1/2 teaspoon baking powder
1/2 teaspoon baking soda
1/8 teaspoon salt
1 tablespoon chilled vegetable shortening
1 tablespoon chilled unsalted butter
1/2 cup low-fat buttermilk
Vegetable oil cooking spray
Ingredients for whipped cream:
2 cups chilled heavy cream
2 tablespoons sugar
2 teaspoons vanilla extract
Ingredients for strawberries:

2 pints strawberries, hulled
4 tablespoons sugar
Garnish:
Fresh mint sprigs
4 whole strawberries
Directions for shortcake:
Preheat oven to 425 degrees F.
Mix ginger, flour, sugar, baking powder, baking soda and salt in a large bowl. Cut shortening and butter into small pieces and rub in with fingertips until mixture resembles coarse grains.
Add buttermilk and stir until soft dough forms. Turn out onto lightly floured surface and gently knead until smooth, about 4 to 5 turns.
Spray a heavy baking sheet with cooking spray. Place 4 palm-size mounds of dough on baking sheet. Bake until puffed and golden, about 15 minutes.
Directions for strawberries:
Slice 12 berries lengthwise and set aside. Crush remainder with a potato masher or fork. Mix crushed berries with sugar in a medium bowl. Stir occasionally until ready to use.
Assembly:
Spread 1/2 cup whipped cream onto each of 4 dessert plates.
Cut each biscuit in half centering a bottom piece on each plate. Surround with 6 strawberry halves as shown.
Spoon 2 tablespoons whipped cream on each biscuit bottom. Cover with crushed berries, biscuit top, and a dollop of whipped cream.
Top with a sliced, fanned strawberry. Garnish with mint sprigs and serve immediately.
Back to the VeggieCards
Recipe Greeting Cards
©1996-2008 All Rights Reserved.
Call toll free to order: 1-734-330-4430