ROASTED GARLIC MASHED POTATOES IN BALSAMIC GRILLED PORTOBELLOS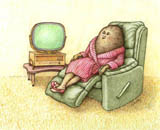 Yield: 4 servings
Ingredients for potatoes:
1 cup unpeeled garlic cloves
Vegetable or olive oil cooking spray
2 pounds Yukon Gold or russet potatoes
1 to 2 tablespoons unsalted butter
1/2 cup milk, plus more if necessary
Kosher salt and freshly ground pepper
Directions for potatoes:
Preheat oven to 400 degrees F. Spray garlic with cooking oil spray.
Arrange garlic in one layer on a double thickness of foil, cover with foil and seal edges tightly. Roast garlic on the middle rack of oven for about 40 minutes or until very soft. Cool, then squeeze garlic from skins.
Peel potatoes and cut into 1-inch chunks. Boil in salted water in a large saucepan for 10 to 12 minutes or until tender. Drain.
Mash potatoes, garlic, butter and milk until smooth. Add more milk if necessary to make the mixture creamy. Salt and pepper to taste. Ingredients for grilled vegetables: 16 asparagus spears, trimmed 4 portobello mushroom caps, cleaned 1/4 cup balsamic vinegar Vegetable or olive oil cooking spray Kosher salt Garnish: Paprika and fresh thyme sprigs
Directions for grilled vegetables:

Brush asparagus and portobellos with balsamic vinegar. Let sit for about 30 minutes to absorb flavor.
Heat grill to medium high.
Spray asparagus and portobellos with cooking spray or brush with oil. Sprinkle with salt. Grill until tender and charred grill marks appear, about 15 minutes for portobellos, about 5 to 7 for asparagus.
Assembly:
Mound mashed potatoes onto upturned portobello caps.
Arrange 4 asparagus spears so their points meet over the top of the potatoes.
Lightly sprinkle with paprika. Garnish with thyme sprigs and serve.
Back to the VeggieCards
Recipe Greeting Cards
©1996-2008 All Rights Reserved.
Call toll free to order: 1-734-330-4430