Carrot Sorbet with Candied Lemon Zest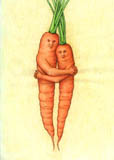 Yield: 1 pint of sorbet; about 4 servings
Ingredients for sorbet:
1 tablespoon finely chopped orange zest
3/4 cup sugar Juice of one orange
3 cups carrot juice
1 tablespoon finely chopped crystallized ginger
Ingredients for candied lemon zest:
Directions for sorbet:
Mash orange zest with 1 teaspoon of sugar to release the oil.
Combine orange and carrot juices. Stir in ginger, orange zest and remaining sugar and let stand until sugar dissolves, about 10 minutes. Refrigerate until chilled, about 1 to 2 hours.
Pour into an ice cream maker and prepare according to the manufacturer's directions.
Directions for candied lemon zest:
With a vegetable peeler, remove zest from lemons in long 1/2-inch-wide pieces. Trim and cut into long julienne strips.
In a small saucepan, cover zest with water and bring to a boil. Reduce heat and simmer for 5 minutes. Drain, rinse and repeat 2 times.
Bring 1/4 cup water, sugar and zest to a boil. Reduce heat and simmer until liquid is reduced to a thick syrup. Cool.
Assembly:
Garnish sorbet with lemon zest and serve.
Back to the VeggieCards
Recipe Greeting Cards
©1996-2008 All Rights Reserved.
Call toll free to order: 1-734-330-4430