Curly Endive, Slivered Dates and Pear Salad with Toasted Almond Vinaigrette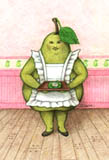 Yield: 8 servings.
Ingredients:
1 cup whole almonds
11/2 cups canola oil
1 shallot, minced
1/4 cup plus 1 tablespoon champagne vinegar (white wine vinegar may be substituted)
2 tablespoons honey
2 tablespoons water
1 large bunch curly endive, tough outer leaves removed, inner leaves washed, dried and torn into 1 inch pieces
Kosher salt
Freshly ground peppe
3 firm, ripe Bartlett pears, peeled, cored and thinly sliced lengthwise
16 pitted dates, sliced in half lengthwise, then thinly sliced into slivers
Directions:

Toast almonds in 1 tablespoon canola oil over medium heat stirring occasionally until fragrant and lightly browned, about 5 minutes. Pulse toasted almonds about 6 times in a food processor until coarsely chopped. Add shallot, vinegar, oil, honey and water. Pulse dressing until emulsified.
Toss endive with dressing. Season to taste with salt and pepper.
Divide endive between plates. Arrange pear slices in a circular pattern in the center of the endive.
Scatter dates around the pears and serve.
Back to the VeggieCards
Recipe Greeting Cards
©1996-2008 All Rights Reserved.
Call toll free to order: 1-734-330-4430