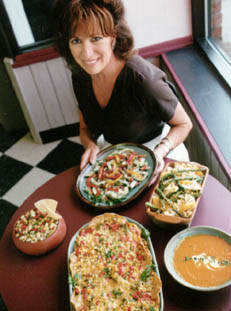 "Using fresh vegetables in the peak of their season is the inspiration for most of my recipes," chef Peggy de Parry says.
Peggy acquired her love of good food while growing up in Mountain Brook, Alabama, a suburb of Birmingham. Both her mother and grandmother were known for their entertaining. Her mother, an excellent cook who enjoyed giving elaborate parties, also liked to experiment with culinary trends. The household cuisine went through French, Italian and Chinese phases. Peggy learned to appreciate diversity at an early age.
"When I was ten," she says, "Mother told me it was important to know how to make tossed salad, flaky biscuits and perfect fried chicken so she sent me to grandmother Mary Ellen's house for cooking lessons." Peggy loved her grandmother dearly and traces her deep respect and love for good food to those memorable days in her grandmother's kitchen.
Her great aunt Malvina was also an inspiration to Peggy, introducing her to the idea of a career in the food industry. Now in her 90's, Aunt Malvina had a gourmet shop in Greenwich Connecticut and was one of the founders of Cooks' Magazine. She was a dame d'Escoffier and a friend of James Beard. Aunt Malvina has written numerous cookbooks, including the recently published Well Preserved, a book on preserves.
Peggy attended college at Pine Manor near Boston. Her sophomore year, she studied at the Sorbonne and lived with French families in Paris and Tours. She was impressed by the reverence her French friends had for fine food. Interested in communications, she transferred to the University of Michigan in Ann Arbor. After graduation, she moved to New York and worked for Hill and Knowlton, a large public relations firm.
In the late 1970's, the Silver Palate, one of the country's first gourmet shops, opened near Peggy's apartment on Columbus Avenue. Intrigued by this and by the emergence of other wonderful delicatessens in New York such as Dean & DeLuca's, Zabar's, and Balducci's, she wanted to open her own gourmet shop but felt New York was just too big of an apple to bite. After taking cooking classes from Jacques Pepin and Guiliano Bugiali, she returned to Ann Arbor and opened the Back Alley Gourmet in 1981. She shares her cooking skills by teaching cooking classes.
In fall of 1995, Peggy and her long-time friend Leslie Arwin began producing the VeggieCards. Each card features one of Leslie's drawings and contains an original vegetarian recipe created by Leslie, who took over the recipe writing duties in 2005. The 35 different designs are sold nation-wide.
Back to the VeggieCards
Recipe Greeting Cards
©1996-2008 All Rights Reserved.
Call toll free to order: 1-734-330-4430