"Team's Whimsical Greeting Cards Include Back Alley Gourmet Recipes
Arwin's Prismacolor drawings---soft, yet detailed---not only make the cards look nice, but show the cook what the finished product should look like. The cards and upcoming cookbook also reflect de Parry's interest in full-bodied but lower-fat flavor."
(Ann Arbor News, July 7, 1997)
"Edible Salvation at the Back Alley Gourmet
The Back Alley offers take-out with a difference---the ingredients are fresh, the offerings are unique and the counter-people know how to be friendly and knowledgeable at the same time. Salads definitely steal the show an ever-rotating, ever-fascinating array of beauties fill the counter daily."
(Ann Arbor News, 1996)
"A Pleasant Garden of Culinary Delights: Back Alley Gourmet Specializes in Creativity
The Back Alley Gourmet is the perfect neighborhood eatery with a clientele that loves thie takeout treats. The Back Alley Gourmet caters happily to a variety of tastes. For 11 years years, Peggy de Parry, owner and head chef, has been creating fresh, tasty pasta salads, hearty sourps, creative casseroles and nouth-watering appetizers. Creativity is de Parry's favorite part of her job. There are no standardized recipes at the Back Alley Gourmet. Being creative, however, does not mean high fats and calories."
(Ann Arbor News, May 6, 1992)
"Take one creative artist with meticulous attention to detail, add a retailer with a knack for creating interesting recipes, throw in a humerous way of looking at vegetables, and you have the beginnings of a partnership: the Veggie-girls!"
(Giftbeat, June 1996)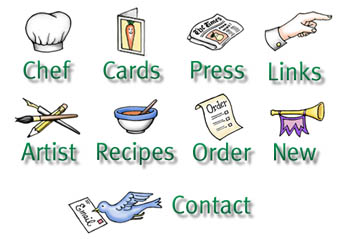 VeggieCards
Recipe greeting cards from the Back Alley Gourmet
©1997 All Rights Reserved.
Call toll free to order: 1-734-330-4430